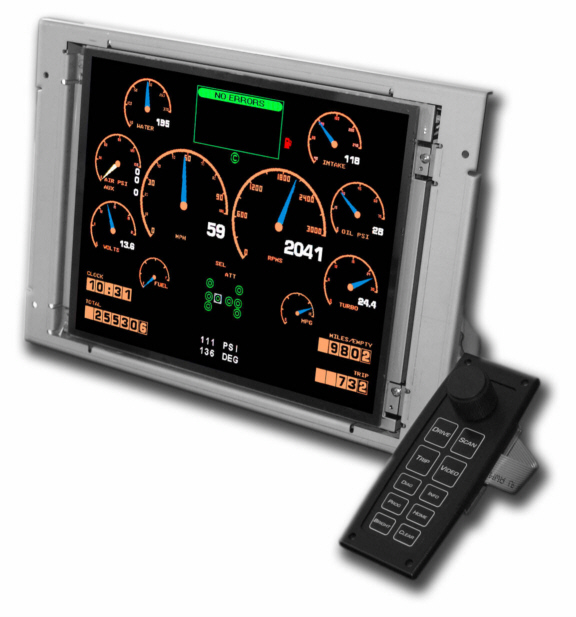 VMS-645 GLASS DASH
There is a good reason airplanes all have gone with glass instrumentation. It is so much easier to read and provides a far better driver experience. And its far more reliable. Now you can get an aviation-class glass panel in an RV. Installation is simple, and it works with almost any diesel pusher chassis, no matter the manufacturer.
CONTACT US TODAY FOR AN APPOINTMENT
Newmar, Foretravel, Country Coach, Monaco and American all offer the VMS-645 CL on their coaches. The product is also available as an aftermarket addition for almost any recent model diesel pusher. Each version is unique, programmed to the specifications of the coach builder.
The VMS 645 CL uses a state-of-the-art display for outstanding daylight readability. It also uses special optics to eliminate glare, so the sun's reflection does not cause the "white-out" that makes almost any ordinary plastic surface unreadable. The color scheme, or palette, automatically changes with the headlights, along with the backlight brightness. During the day a hot, bright palette gives vivid contrast, while at night cool colors pamper the eyes.
The design takes full advantage of the digital technology. In addition to the conventional icons that populate an ordinary dash, this unit provides a "message center" that explicitly states what all the warnings mean. It includes warnings such as "low fuel" that come in gradations. The fuel icon and "low fuel" message will change from yellow to red as the tank empties, and temperature messages and icons will do the same as temperatures rise.
---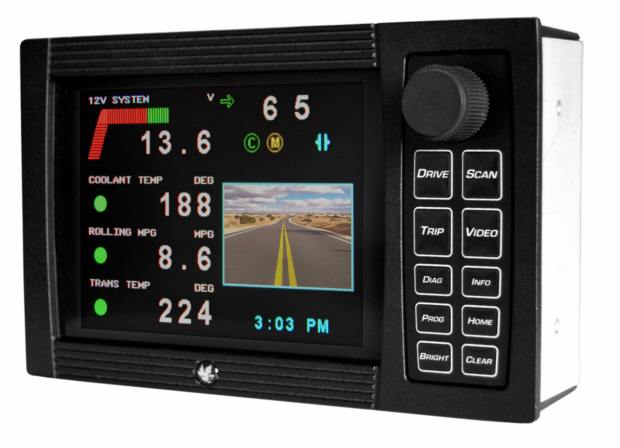 VMS-440 Driver information Center
If your coach can't fit a full Glass Dash, we put the same display technology that we use in the VMS-645 and put it into a smaller form factor. The VMS-440 offers all engine diagnostic and performance information, and handles video as well.
CONTACT US TODAY FOR AN APPOINTMENT
Like all the VMS products, the VMS-440 CL displays all your temperatures and pressures, performance information, trip information, and diagnostics. But it uses a gorgeous full-color display, the brightest of its kind, to enhance its utility. Imagine all the many screens and gauges of the VMS-320 EL - but now brilliantly rendered in your choice of palette.
But that is just the beginning. The VMS-440 CL also contains a powerful digital video processor that allows it to take any type of video input - from a GPS or camera, for example - and size it, scale it, and place it anywhere on the screen. It can instantly switch from a full-screen view to a windowed view - and it can display VMS data at the same time.
The VMS-440 CL can accept up to four video inputs, and switch between them either automatically or at a touch of a button. Each input is separately adjusted for perfect hue and contrast. This opens up a whole new world of options for your dash.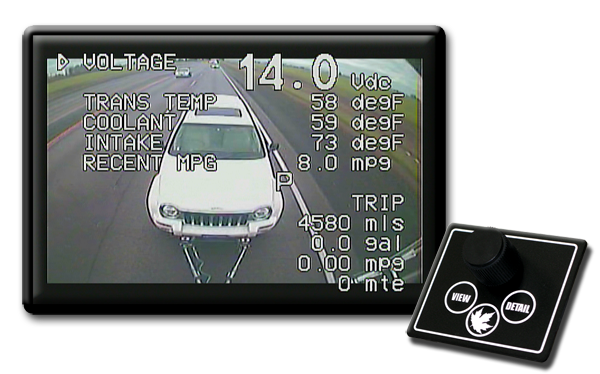 VMS-333 Driver information Center
Here's a way to get SilverLeaf monitor in your dash without minimum of fuss. Just add the VMS-333 behind your existing camera monitor and install the small keyboard. The VMS-333 overlays the engine and chassis information on the camera feed. Too Easy!
VMS-333 Driver Information Center
VMS-350 Driver Information Center w/ 7x5 Video Matrix
CONTACT US TODAY FOR AN APPOINTMENT
ENGINE
ACCELERATOR POSITION
BATTERY VOLTS
CRUISE CONTROL SET SPEED
COOLANT TEMPERATURE
ENGINE LOAD
FUEL RATE
INSTANTANEOUS MPG
INTAKE MANIFOLD TEMPERATURE
SPEED
TECHOMETER
TURBO BOOST PRESSURE
PERFORMANCE
HORSEPOWER OUTPUT
POWER FACTOR
TORQUE OUTPUT
ROLLING MILES PER GALLON
DIAGNOSTICS
AUTOMATIC DIAGNOSTIC REPORTING
PLAIN-LANGUAGE CODE TRANSLATION
PROFESSIONAL ELECTRONIC DIAGNOSTIC "SCAN"
OTHER FEATURES
ENGINE ODOMETER
HOURMETER
FUELMETER
ENGINE IDENTIFICATION
CRUISE MONITOR
TROUBLE MONITOR
TRANSMISSION
REQUIRES ALLISION 6-SPEED
GEAR SELECTED
GEAR ATTAINED
MODE (Economy / Performance)
TORQUE CONVERTER STATUS
TEMPERATURE
SHAFT SPEED
TRIP FEATURES
ESTIMATED FUEL REQUIRED
ESTIMATED TIME OF ARRIVAL
TRIP AVERAGE SPEED
TRIP FUEL CONSUMED
TRIP HISTORY
TRIP MILES
TRIP MILES PER GALLON
TRIP MILES REMAINING
TRIP TIME ELAPSED
Dash Accessories
No dash gauge is more valuable than a Miles-to-Empty reading, and you can add it to any VMS, no matter what kind of tank sensor you have in your coach already.